Restructuring Islamic Social Finance Ecosystem on Standardization of Waqf in Indonesia: Platform Digitized
Keywords:
Islamic Social Finance, WCP, Digital Platforms, Waqf
Abstract
The emergence of waqf forum applications raises an issue that has to be immediately resolved, where the management of public funds requires sufficient transparency and the efficient access to it to continue to attract public attention. This study will discuss the extent to which digital actors manage waqf are in accordance with Waqf Core Principle (WCP). With the presence of WCP as part of the guide for the course of managerial principles, it should be the main consideration for every manager of this waqf platform. The availability of the information for each platform and website mentioned branding and the source of information. From the 29 cores of WCP and the 5 selected platforms; Dompet Dhuafa and Rumah Zakat have been approved and standardized by WCP. It does not mean that Global Zakat is not proper enough to be a waqf organization, it is only a matter of the lack of information provided by Global Wakaf. For Kitabisa and Ammana, they do not need to be standardized by BWI or WCP as they are intermediaries' platforms instead of waqf platforms. The growing number of Cash Waqf will ultimately improve financial inclusion in Indonesia as one of the government's goals.
References
Abduh, M. (2019). The Role of Islamic Social Finance in Achieving SDG Number 2: End Hunger, Achieve Food Security and Improved Nutrition and Promote Sustainable Agriculture. Al-Shajarah: Journal of Islamic Thought and Civilization, 185-206.
Azevedo, L., Gaynor, T. S., Shelby, K., & Santos, G. (2020, November 5). The complexity of diversity and importance for equitable philantropy. Nonprofit Management and Leadership, pp. 1-13. doi:10.1002/nml.21448
Badan Wakaf Indonesia. (n.d.). Retrieved from bwi.go.id.
Berakon, I., Aji, H. M., & Hafizi, M. R. (2022). Impact of digital Sharia banking systems on cash-waqf among Indonesian Muslim youth. Journal of Islamic Marketing, 1551-1573. doi:https://doi.org/10.1108/JIMA-11-2020-0337
Biancone, P. P., & Radwan, M. (2019). Social Finance and Financing Social Enterprises: An Islamic Finance Prospective. European Journal of Islamic Finance.
Bustami, Laksamana, R., & Roviqoh, Z. (2022, June). Waqf fundraising through money in the industrial revolution 4.0 era: A case study on Baitulmaal Munzalan Indonesia. Ijtihad: Jurnal Wacana Hukum Islam dan Kemanusiaan, 20(1), 23-39. doi:10.18326/ijtihad.v20i1.23-39
Chatterjee, A., & Rai, A. (2017, September 21). Strategic philanthropy and its challenges in India: A multiple case study of grantmaking organizations. Nonprofit Management & Leadership, pp. 1-13. doi:10.1002/nml.21293
Choiri, M., & Makhtum, A. (2021, June). Traditionalism Nazhir Kyai on Waqf Asset Development in Bangkalan Madura. ZISWAF: Jurnal Zakat dan Wakaf, 8(1), 72-90. doi:10.21043/ziswaf.v8i1.8385
Dompet Dhuafa. (n.d.). Retrieved from dompetdhuafa.org.
Faturohman, T., Rasyid, M. F., Rahadi, R. A., Darmansyah, A., & Afgani, K. F. (2021). The Potential Role of Islamic Social Finance in the Time of COVID-19 Pandemic. Review of Integrative Business & Economics Research, 10(1), 95-105.
Fauzi, A., & Tanjung, H. (2021, September). Risk Management in Cash Waqf Linked Sukuk Based on the Waqf Core Principle: A Preliminary Study. BWI Working Paper Series(7), 1-29.
Hartini, S., Kurniawati, M., Sulistiawan, J., & Ihwanudin, M. (2021, 03 20). From Practice to Theory: White Ocean Strategy of Creative Industy in East Java Indonesia. Review of International Geographical Education (RIGEO), 11(5), 4214-4222. doi:10.48047/rigeo.11.05.303
Iskandar, A., Possumah, B. T., Aqbar, K., & Yunta, A. H. (2021). Islamic Philantrhropy and Poverty Reduction in Indonesia: The Role of Integrated Islamic Social and Commercial Finance Institutions. al-Ihkam: Jurnal Hukum dan Pranata Sosial, 16(2), 274-301. doi:http://doi.org/10.19105/al-ihkam.v16i2.5026
Jouti, A. T. (2019, May 22). An integrated approach for building sustainable Islamic social finance ecosystems. ISRA International Journal of Islamic Finance, 11(2), 246-266. doi:10.1108/IJIF-10-2018-0118
Kitabisa. (n.d.). Retrieved from kitabisa.com.
Leborgne‐Bonassié, M., Coletti, M., & Sansone, G. (2017, April 14). What do venture philanthropy organisations seek in social enterprises? Business Strategy and Development, 1-9. doi:10.1002/bsd2.66
Listiana, L., Alhabshi, S. M., & Harjunadhi, A. W. (2020, January 15). Waqf for Socio-Economic Development: A Perspective of Ibn Khaldun. İbn Haldun Çalışmaları Dergisi, 5(1), 83-94. doi:10.36657/ihcd.2020.67
Mahfud, C., Tsalatin, R. F., Amelia, L., Dewi, N. S., Fatchurozi, M. I., Ibenzani, M. R., & Agung, F. (2020, Desember 2). Digitalization of Islamic Philanthropy: Effectiveness of Management of Zakat and Waqf in Contemporary Indonesia. Jurnal Pemikiran dan Pendidikan Islam, 4(2), 203-214.
Mohammad, M. T. (2011, October). Towards an Islamic Social (Waqf) Bank. International Journal of Trade, Economics, and Finance, 2(5), 381-386.
Mujani, W. K., & Yaakub, N. I. (2017, August). Waqf for Higher Education in Malaysia: Overview on Challenges. European Journal of Multidisciplinary Studies, 2(5), 455-461.
Mutmainah, L., Nurwahidin, & Huda, N. (2021). Waqf Blockchain in Indonesia: at A Glance. Jurnal Wakaf dan Ekonomi Islam, 14(1).
Obaidullah, M., Izhar, H., Muljawan, D., Ismal, R., Savitri, A., Saptono, I. T., . . . Beik, I. S. (2018). Core Principles for Effective Waqf Operation and Supervision. Islamic Social Sector Development Initiatives.
Pertiwi, R. S., Ryandono, M. N., Rofiah, K., & Anita. (2019). Regulations and Management of Waqf Institutions in Indonesian and Singapore: A Comparative Study. The 2nd International Conference on Islamic Economics, Business, and Philanthropy (ICIEBP) Theme: "Sustainability and Socio Economic Growth". 2019, pp. 766-783. KnE Social Sciences. doi:10.18502/kss.v3i13.4246
Sakhok, J., & Munandar, S. A. (2019). The Sufi Order and Philanthropy: A Case Study of Philantrophical Activism of The Naqsyabandiyah Al-Haqqani Sufi Order in Indonesia. Teosofia: Indonesian Journal of Islamic Mysticism, 8(1), 31-50. Retrieved from http://journal.walisongo.ac.id/index.php/teosofia
Tohor, T. (2021). Regulasi Wakaf. Direktorat Pemberdayaan Zakat dan Wakaf.
Utomo, S. B., Masyita, D., & Hastuti, F. (2020, October). Why Cash Waqf Fails to Meet the Expectation: Evidence from Indonesia. Indonesia's Financial Services Authority (OJK) Research, 1-23.
Wadi, D. A., & Nurzaman, M. S. (2020). Millennials Behaviour towards Digital Waqf Innovation. International Journal of Islamic Economics and Finance. doi:https://doi.org/10.18196/ijief.3232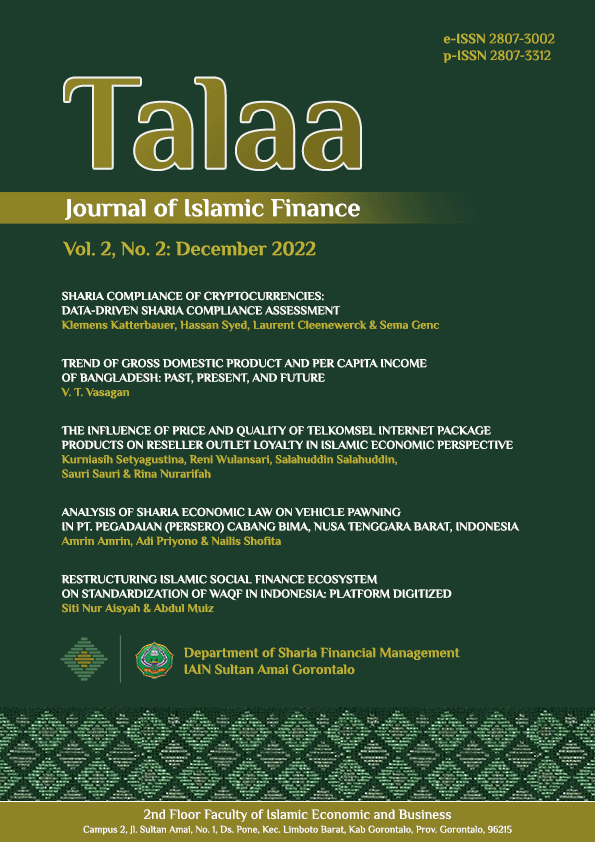 Additional Files
How to Cite
Aisyah, S. N., & Muiz, A. (2022). Restructuring Islamic Social Finance Ecosystem on Standardization of Waqf in Indonesia: Platform Digitized . Talaa : Journal of Islamic Finance, 2(2), 124–140. https://doi.org/10.54045/talaa.v2i2.697
License
Copyright (c) 2022 Siti Nur Aisyah, Abdul Muiz
This work is licensed under a Creative Commons Attribution-ShareAlike 4.0 International License.